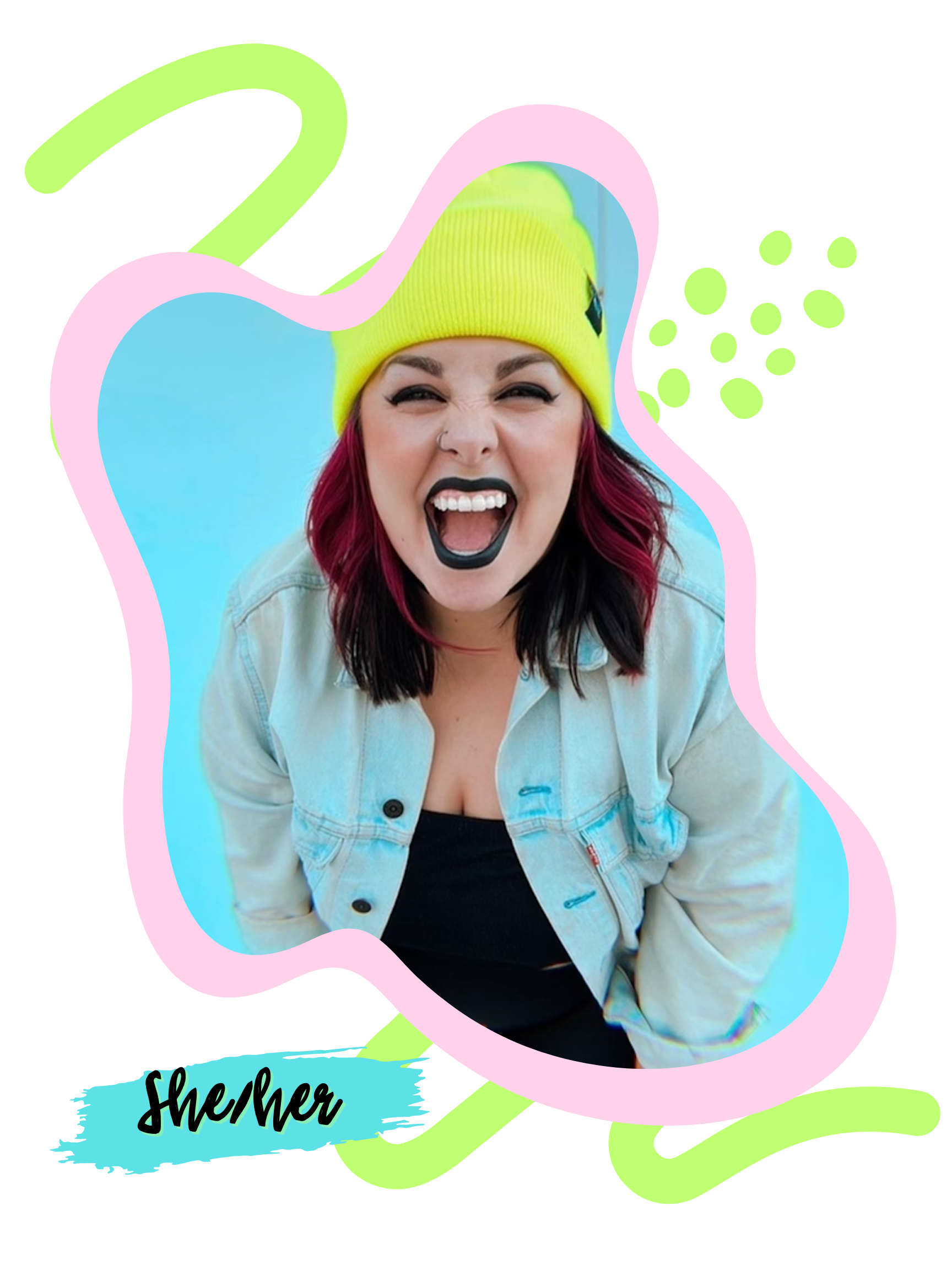 Hi! I'm Dani ⚡️
AUTHOR, SPEAKER AND EDUCATOR
Dani Driusso is the powerhouse author, speaker and facilitator behind the Unleash Your Voice Podcast. Over the past 6 years she has built unique frameworks around Sustainable Confidence, I.C.O.N.I.C leadership and Social Media Consent. Dani helps to build spaces where leaders bring compassion, integrity and collaboration to the spaces they govern. She helps her clients take up space with their voice, energy and personal expression. Dani also works online with personal brands to help them step into the digital spotlight without sacrificing their values for success. Her goal is to support her client's in building a fully immersive experience for their brand with a vibrant approach to helping them 'own who they are' online and offline.
You're fabulous, stop being so secretive about it. 
TAKE UP SPACE (and embrace your inner icon)
Clothing and apparel for the folks who have felt like too much for the world around them. Created to help you embrace your voice, your heart, and your inner icon.
This clothing line was created with you in mind, to help you take up a little more space in the world and know that you are not alone.
SIZES S-5X IN MOST STYLES
INTERNATIONAL SHIPPING
CURVY & NEUTRAL FIT 
MULTIPLE STYLES FOR EACH BODY TYPE  
COLOURS & PRINTS FOR EVERY ICONIC ENERGY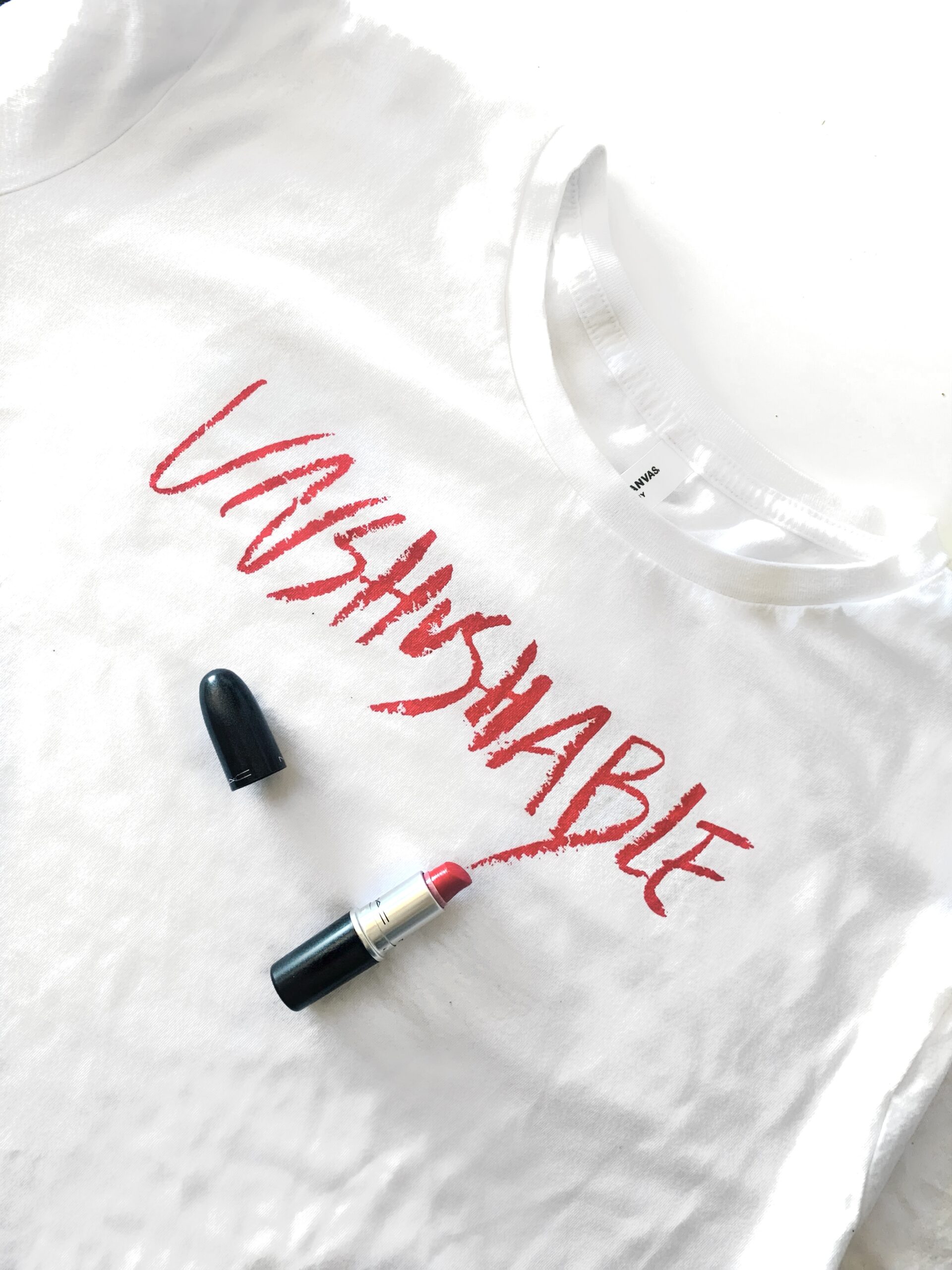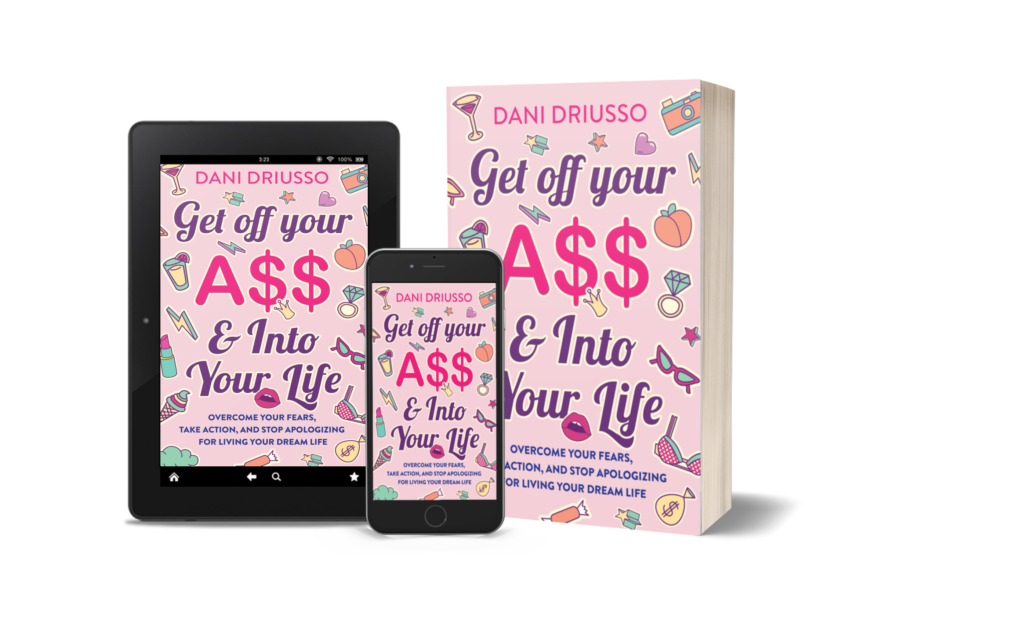 This one's for the un-shushable, the limitless, anyone who's done with apologizing for who they are and ready to turn the volume up on their dream life. In this interactive guide, loud and proud leadership coach Dani Driusso challenges you to laugh at your own humanness, accept your badass self, and embrace what makes you unique in this world—so you can own it already. Every chapter includes real-time dares to get you out of your comfort zone and into mastering your love life, your career, and your relationships. With real and raw stories from Dani's own journey from hot mess to success, this book is sure to keep you laughing all the way to your best life ever.
Frameworks I have built and lead by:
Sustainable Confidence
Confidence that is built as a muscle instead of 'flipped on' like a light switch. This means that before we look at confidence and expression, we have to understand the influences our environment/privilege/access/society has on our ability to be fully ourselves.
This is where It's beneficial to build spaces and classrooms that hold a non-judgmental lens to the journey of education.
---
The I.C.O.N.I.C Leadership Framework
A framework built to guide leaders of all spaces (including educators).
Integrity - Integrating our value system into our actions, behaviours and the spaces we create.
Clear Communication - Understanding how we can create more clarity in how we share our thoughts, expectations and energy in the spaces we lead in. ABC: All behaviour is communication.
Ownership - Taking ownership over our actions, the harm we cause and the environments we create as a leader.
Nuance - The space we leave before placing judgment that allows us to understand how privilege, trauma, environment, and systemic factors may influence the humans we connect with.
Intention & Impact - Remaining in check with what our intention of our actions, behaviours and words are but also understanding that intention does not outweigh impact. With impact comes repair work and understanding the affect we have on the environments we share space in.
Capacity & Consent - Which means we always honour how much the humans around us are holding and always ensure we are leaving space for choice. For hearty "yes's" and allowing space for "no's" while respecting the mental, emotional and physical health of those around us.
---
Social Media Consent
"If you consent to following me, you consent to all of me" - Dani Driusso
The practice of taking full ownership of how we create, consume and communicate online (especially as we market in the digital space). Seeing the "follow" button as a button that allows us to curate what we consume in our online environments. The practice of social media consent ensures that there is choice, autonomy and ownership as a creator/consumer online. Learn more about Social Media Consent in this podcast!
"She is a brilliant strategic mind, she really knows what she's talking about from a business standpoint, but her true passion lies in voice and in working with her you can really see that. So if you're considering working with Dani, run, don't walk. You really won't regret it, even just spending an hour or two with her will be deeply and profoundly transformational."
- Erika Ashley 
My Approach:
I work in a way that is process based and collaborative. We are on the same team and I am not here to tell you who you are or who you need to be. I'm here for you to share who you are and what you believe in, so I can support you in getting really loud about it ;).  I am also very open to hearing what you may need for this work to support you in a more effective way. This work helps to support you in amplifying your values, ethics, personality and skill as a personal brand. I'm here to help you step into the spotlight in a way that honors you and the people you share space with (online & offline).
The Experience & Education I pull from:
Bachelor of Fine Arts in Theatre.  Learning about voice, movement and creating immersive experiences for audiences. Learning from incredible humans such

as Val Campbell, Clem Martini and Brian Smith

. With a major focus on Film in my degree as well, I avidly studied the branding of

Disney

and the approach of taking an entire experience and communicating it into a digital experience.

Workshops from the Moving Voice Institute on breath, body and voice from instructors such as

Dawn Mcaugherty, Gale Murphy and David Smukler. 

Over 9 years of experience as an Educator and freelance artist for process-based theatre in schools across Alberta.

Over 6 years in the coaching industry and spending the last 3 years learning about Trauma Informed Leadership & Space-holding from programs like Katie Kurtz

Cultivate

program,

The TIC (Trauma Informed Care e-learning series)

through the AHS and

The Centre for Healing's

Certification

for Trauma Informed Coaching.

My extensive and ongoing personal study of how Cult Tactics show up in industries that promote leadership - such as the personal development industry. This helps me to create spaces that explore, dismantle and unearth the authoritarian tactics that are disguised as "great marketing"/"bold leadership". Expect an avid commitment to

No Cult Shit

here! 
Things I'm proud of: 
The approach I have cultivated of letting laughter, play, purpose and expression guide this work.

Author of a book called

Get Off Your A$$ & Into Your Life 

Keynote Speaker at events such as The Western Leadership Conference speaking to emerging leaders on topics of cultivating Identity. 

Facilitator in multiple industries to help cultivate skills of confidence, leadership and relationship with teams. 

Team lead, Instructor and artist for Alberta based theatre company working with youth youth.

A lifetime of being on the stage and working on my own personal expression through theatre, film and modeling.

Serving on a Board Of Directors for co-operative housing in Alberta working with diverse communities (learning from as well as facilitating many educational workshops).
" Working with Dani is a whole new level, a whole new commitment, a whole new deep dive. I knew I wanted that deeper root, accountability, support, love, and guidance."
Brooke Allison