Let. Them. Watch. 😉
You get more expressed, bolder, and more jaw-dropping on your social media. 
You know you're a mother forking genius,
You know what you stand for,
You know what you bring to the table and you're just so sick of feeling like you can't be as expressed as you want to be online.
Not only that - you want to light it up, without feeling the weight of judgement and the pressure of sleazy sales sh*t.
I know what it feels like to attend the countless awkward family dinners where your instagram is brought up or that 'little business of yours',
the screenshots of your social media that you just *know* gets passed around the group chats,
the *oh my god, who does she think she is* moments you feel happen when you post something that feels a little scary.
The edges you lean into as you get more cozy being in the spotlight,
the vision that gets bigger every day.
You have shit to say, content to make, and a whole lot of talent to share with the world around you.
Feeling like a mother f*king icon involves mastering your boundaries, your brand and your bliss, especially when SOCIAL MEDIA is a cornerstone of your business.
This course is not meant for you to do things that bend against your values in order for you to get noticed on social media - I'm here to help you truly love the shit out of your experience on social media, while leaning deeply on your values to do so. We are here for ethical, consensual and juicy content that makes us feel deeply honoured in every aspect of who you are.
Your life is not social media, social media is a tool that helps you curate your life. Whether that be influencer marketing, online coaching, content creation or managing other creators social platforms for them - social media is a way to have your big dreams become reality, and yet social media can be our biggest downfall.
There are so many things that create burnout as creators on social media that people who aren't creators just don't get, LIKE:
Non-consensual dms
Opinions that are constantly projected onto us
Unreal expectations of who we have to present ourselves as online in order to be "successful"
Industry standards that ask us to abandon parts of who we are for figurative and literal LIKES from strangers.
Feeling chained to our cellphones, our social stats, and our feed constantly.
And so much more...
THIS IS WHY I CREATED SOCIAL MEDIA CONSENT,
so creators could take back ownership over their energy, their dms, and their presence online (and have more sanity offline).
Don't you dare "shut up" - you have sh*t to say and people love it.
IF THEY CONSENT TO FOLLOWING YOU - THEY CONSENT TO ALL OF YOU. 
Take back ownership over your social platforms (no matter who's watching)
Learn how to communicate your social boundaries to family, friends and your following.
Learn how to honour your capacity as a creator and no longer sacrifice what makes you who you are for social success.
Crush comparison and come back home to who you are as a creator.
STOP SACRIFICING CONSENT FOR CONTENT.
Learn how to build consensual marketing practices that don't cause harm to your following.
Communicate your boundaries, capacity and build consensual dms that don't feel sleazy.
Consensual story telling for creators - and how to share your story without bypassing someone else's privacy.
Communication skills to help your brand skyrocket without being an A-hole.
CONFIDENCE ONLINE & OFFLINE 
How to infuse your values into your social media practices.
Feel confident sharing your heart, soul and beliefs with your audience.
Learn the benefits to finding your own capacity around what you share - on your terms.
Give your audience a fully immersive experience that they will be in love with!
My intention is that you walk away:
Being able to use discretion BEFORE comparison and truly harness what makes you an asset to the online space
📲 Drenching your audience in your unique flavour of expertise and have them dripping in desire for *MORE* of what you have to offer.
Feeling like a badass who knows your capacity, knows your values and knows how to make social media WORK for your energy/personality/capacity.
Boundaries like a badass and the support to process the before care & after care of unleashing your voice (while feeling like a badass in the *in between*).
 More hot content, bolder presence, and like 1000 more smiles because you're utilizing social media in a way that amplifies your strengths!
  Feeling in control of your social platforms with the confidence to be seen for the truth of who you are.
Get 10X more
eyeballs
on your content while feeling deeply proud of what you're sharing.
Feeling like an icon, who knows their sh*t and knows themselves.
PROGRAM DETAILS/BREAKDOWN
This 6 week program contains self-study aspects as well as group discussions to further your understanding. 
6 bite-sized modules to help further your understanding of the concepts of consent within social media.
2 GROUP CALLS (Q&A STYLE) for the first 10 spots!
A community container that models the principles that is taught in the program
Mini-concept videos to kickstart group discussions.
A 6 week mastermind support container (for the first 10 enrolments) to help you digest, implement and master the pillars of the program while learning from other individuals who have different privilege/lived experience/industry experience than you!
Upon enrolment you will receive and email that will give you all the enrolment information, your course access and more!
Please read the terms & conditions prior to purchasing as purchasing is an act of consent to these terms.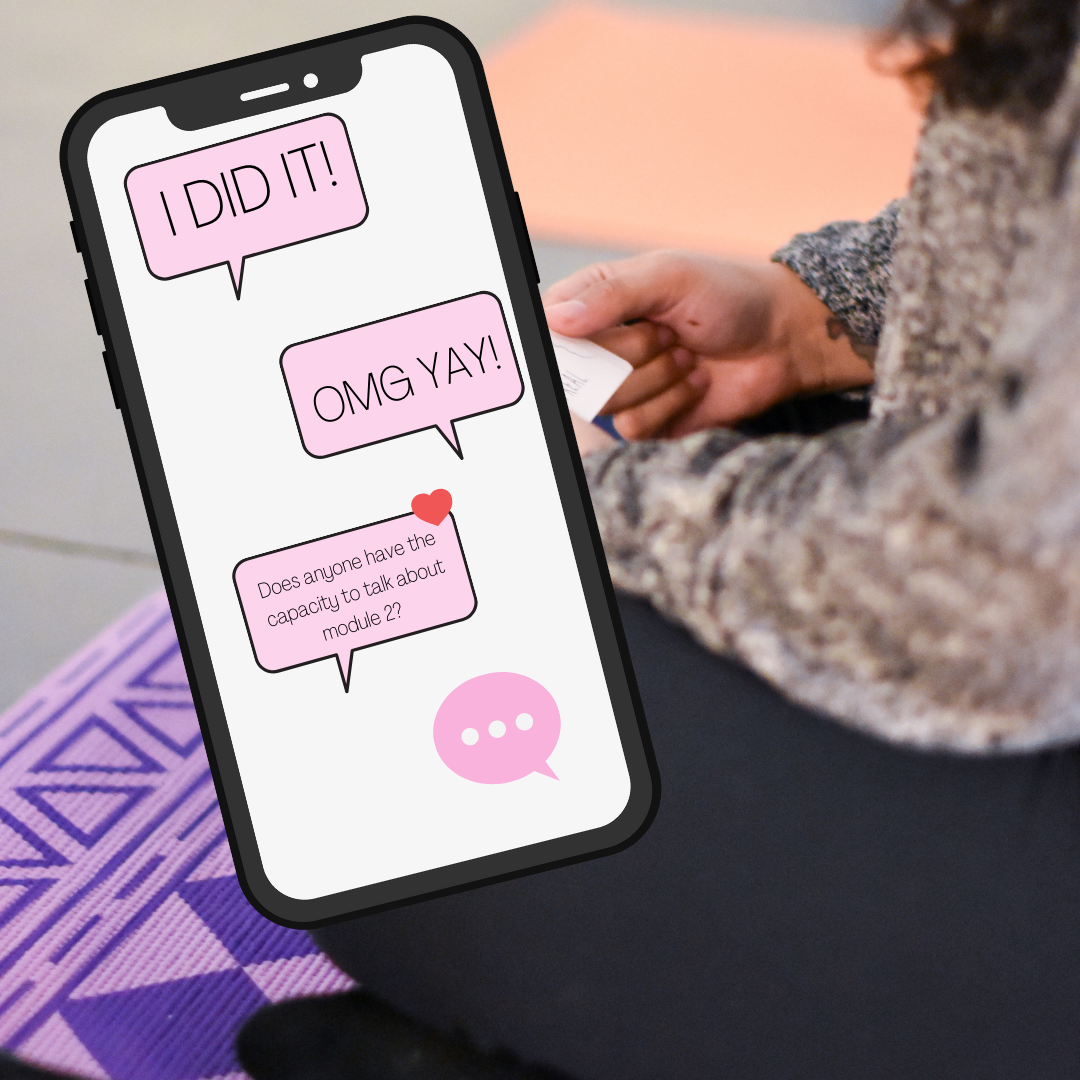 Practice consensual community standards in a space where everyone is working on consent, capacity, and confidence in their own way, with their own hurdles and their own flavour!
Connect with like-minded humans,
work through things in a community-based container,
learn from others and allow for in-depth conversations that expand us past the work within the actual course!
When you're working on consensual practices that actually honour your humanity, things shift quick! This is a great opportunity to allow yourself to build the necessary tools you need to implement these in your day-to-day life by practicing in a container where everyone has the same intention. To create healthy, consensual communities!