The course for rebel-preneurs to give less f*cks, own their extra, and skyrocket their personal brand like a boss.
How would it change your life if every morning you were next-level jazzed to get dressed because every single thing in your closet makes you feel holy-f-balls amazing and *soooo YOU*.
How would it feel to walk into any room, around anyONE and not second guess how you 'should act' because you are unapologetic about every part of who you are?
How would it feel to KNOW what to say/how to respond/how to process when being YOU causes conflict/tension/or makes others uncomfortable?
How would it feel to remove the shame around being successful, SEEN, abundant and so damn happy?
How would it change your life to spend more time experiencing LIFE and less time second guessing how you 'should live'?
This is why I created #UNPROFESSIONAL because you're fabulous, it's time to stop being so secretive about it.
Unapologetic Abundance
You deserve to be wealthy beyond belief - without holding back because of what your inlaws might think.
Full expression
You get to be completely authentic in your business - and no longer compartmentalize yourself into boxes of 'this or that', 'sexy or intelligent', 'bold or compassionate', 'wealthy or woo' - you get to be all of it and OWN THAT SHIT.
Give less fucks, own your awesome.
You get to step into what makes YOU qualified to teach YOUR work with full ownership of your expertise without shrinking who you are to make someone else comfortable. You're here to shine.
Bold standards, big vision, and deep fulfillment
How to stop apologizing for living your dream life and cultivate the tools to go BIGGER instead.
You're ballsy, I like that about you.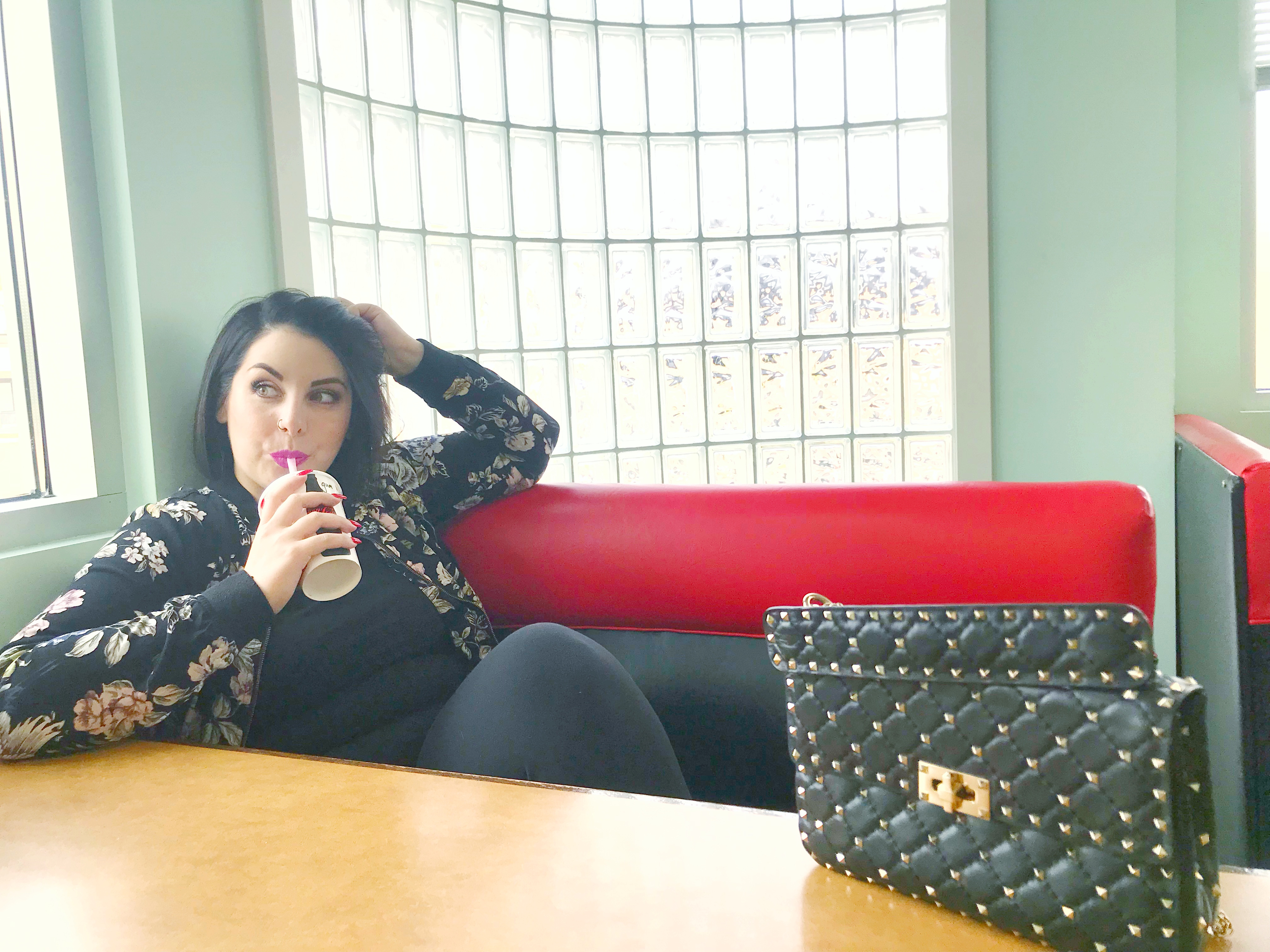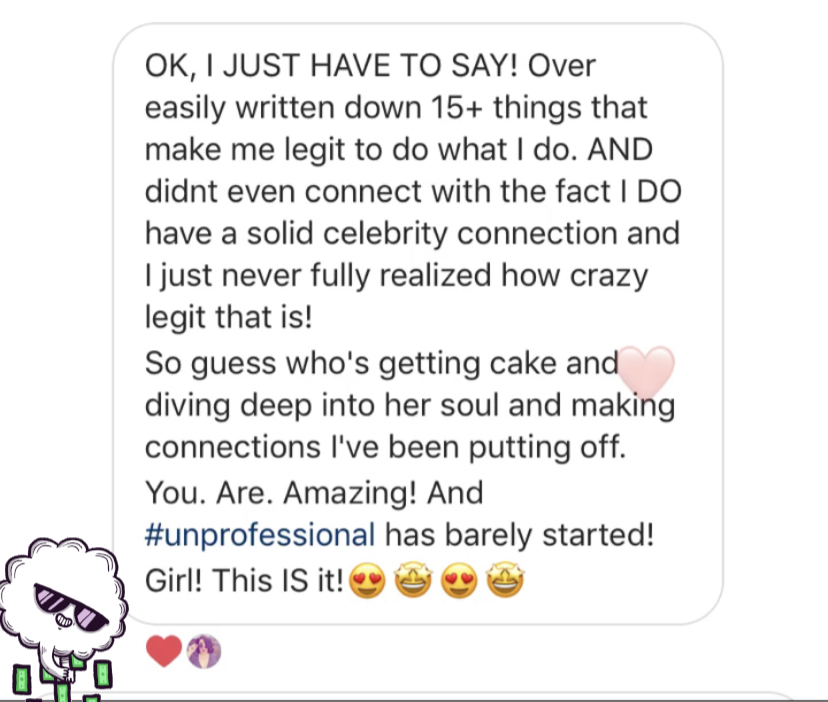 "I can't thank you enough for everything. You are one of the best coaches I've worked with for the deep inner work I need"
- Unprofessional student and private client.
I'm a pro at being loved and getting paid for being you, even when the world has told you that who you are is wrong.
Yooo wazzup, I'm Dani D and I spent 25 years of my life being 'too much', 'too loud', 'too over dramatic' and 'too big'. Like every part of who I was (including my physical body) took up too much space and caused massive conflict. I spent my whole life being other people, so much so that I literally got a degree in it (acting yo!).
If I shared how I felt - I was too dramatic.
If I asked for something - I was too demanding.
And If I was fully me - I was too much.
This got me into a pattern of relationships that deemed me 'too ambitious' to be loved, friendships that labeled me 'too bubbly' to be respected, relationships that showed me my intelligence made me a 'know it all' and a family that told me that being the fullest part of who I am made me 'too extra'.
The solution I followed for far too long was to blend in to every room I found myself in and to be a chameleon to every person I encountered. I as miserable, disconnected, exhausted and questioning myself every second. At one point I had a car filled with separate wardrobes so I could physically change my clothes from job to job and social squad to social squad.
I had a 'fuck this shit' moment when a friend of mine told me 'if I wasn't so bubbly maybe people would like me more'. "Screw that" I responded, "I'm never changing who I am again for anyone else".
Over the years I have gone from Chameleon Coach, to 'that bitch who people adore' in my brand. I have gone from 'the over deliverer' to a deeply respected coach who's clients honor their boundaries, knowledge, and energy. I have gone from 'how to manipulate a man to fall in love with me' (true story) to being deeply loved for the truth of who I am. I want to help you fall so madly in love with yourself that you can show up to your business with the fullest expression of who you are and make bank being you. 

This is the course that is going to help you take radical ownership of your life, your business, your relationships and the fullest expression of who you are.
Get ready to fuck shit up - unapologetically, and have your people fall madly in love with the truth of who you are.

What we are focused on:
Redefining Rejection - How to use rejection as an entrepreneur to go bigger, go bolder, and step into the most badass version of you.
Sisterhood - Creating safe spaces for sacred self-expression so you can play with the fullest version of you without judgment before you go big. This support group will be the most safe space you will ever experience as an entrepreneur - we got you boo.
Monetize your life like a mofo - How to use everything in your life to your advantage. The art of leveraging life in your favor so you can make bank, live freely and express yourself with ease.
Flipping the script on the shiz - How to navigate moments of 'too expensive', 'too much', 'too outthere' and use them to further your brand, your reach and your message without being an A-hole.
Taking ownership - the art of social media consent and making a scroll stopping platform.
Cultivating unshakable belief - In yourself, in your work, in your message.
Tentative Module breakdown (because we are running this shiz live yo!!):
These modules will be recorded LIVE with you in the group so you can ask questions, get laser coaching and be able to interact with these topics IN REAL TIME. After they are recorded, you keep them for life and you will remain in the Alumni community. 
This is a 6 week program to massively grow your visibility as a leader (without sacrificing what makes you a bombshell of a person).
Orientation module: (Instant Access Upon Enrolment) OWNING THE F out of who you are as a leader - cultivating unshakable belief in your work, yourself, and what you're capable of so you can *actually* grow the F out of your business and brand.
 Week 1: FULL EXPRESSION and magnetic leadership so you can be unapologetic in your business (without being an A-hole).
Week 2: Walking into your business like you own the place (cuz you do) and stop hiding from your brilliance. 
Week 3: Personal branding as an extension of YOU so you can ditch the curation and allow your brand to be a vibrant expression of your soul (no coaching chameleons or cookie-cutter content creators).
Week 4: *Wow them* - an approach to selling that is so uniquely YOURS that not only does it stand OUT among the industry but it feels so freaking ooey-gooey-good and nourishing you can't help but show up consistently in your work.
Week 5: Aligned leadership - full integrity in who you is, how you be, and how the world shows up for you (on repeat) so you can ditch imposter syndrome for good.
Week 6: Living FREELY - Stop apologizing for living your dream-life, how to be completely unapologetic about what you get to have, who you get to be, and what your life is becoming.
BONUS: THE 3 DAY LEVERAGE SERIES.
A 3 day series showing you how to LEVERAGE everything in your life for more opportunity, income and fulfilment.
Dani will be there *LIVE* in the group for all 6 weeks of the course.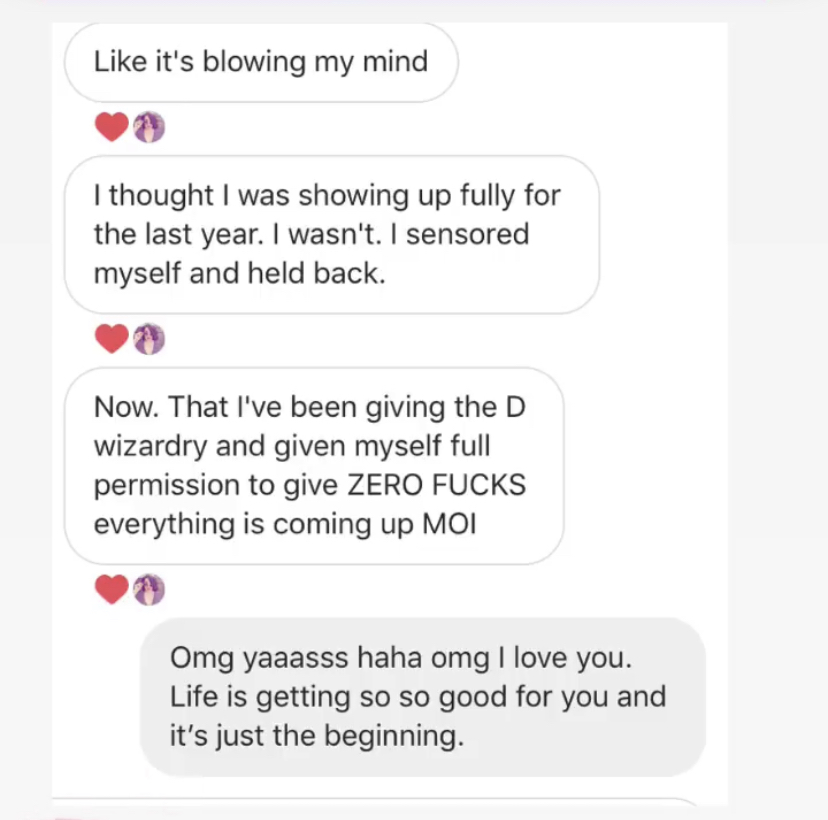 "(Before working with Dani), I wasn't my true, genuine self. I was hidden in this little rock that I had to break through. I was scared, I had been wounded, and I had been hurt a lot. I missed goals over and over again. But I always knew I was unstoppable. Because my dreams were big enough that I wasn't going to let little things stop me in my tracks. Working with Dani is a whole new level, a whole new commitment, a whole new deep dive. I knew I wanted that deeper root, accountability, support, love, and guidance. (Stepping into) your purpose, your calling, is way more important than your current situation and what has happened to you. I knew I needed that love aspect to heal what has been broken inside of me and I couldn't heal on my own to move forward. It wasn't until I stepped into my calling that I was like, "Holy cow, this is actually my reality before my eyes." And I get to help all these other women make that their reality too. I know I'm here to do big things, but not just for me, it's for all of them. It's for the legacy I'm going to leave."