---
You are meant to take up space - Unapologetically.
To be heard.
To no longer have to dim your light to feel seen, understood, or accepted.
To no longer have to compartmentalize yourself or hide parts of who you are depending on who's in the room.
To no longer apologize for your body, your social media, your work, your passions, your talent, your purpose, or your fabulousness.
You're meant to roar.
To leverage your personality, your strength, your skills, your unique talents to your advantage to curate your dream life and experience the f out of it without justification.
To stand strong in who you are with unshakable confidence and undeniable vibrancy.
It's your time to shine. 
I believe this at a core, but I also understand sometimes It doesn't feel like that. Sometimes being unapologetically you can be scary, restrictive and anxiety-inducing.
There can be so much judgment around:
♥ Our bodies.
♥ Our life choices.
♥ Our career path.
♥ Our desires.
♥ Our beliefs.
♥ and how we choose to live our lives.
Sometimes from family, sometimes from friends, sometimes from strangers on the internet - and sometimes even from ourselves.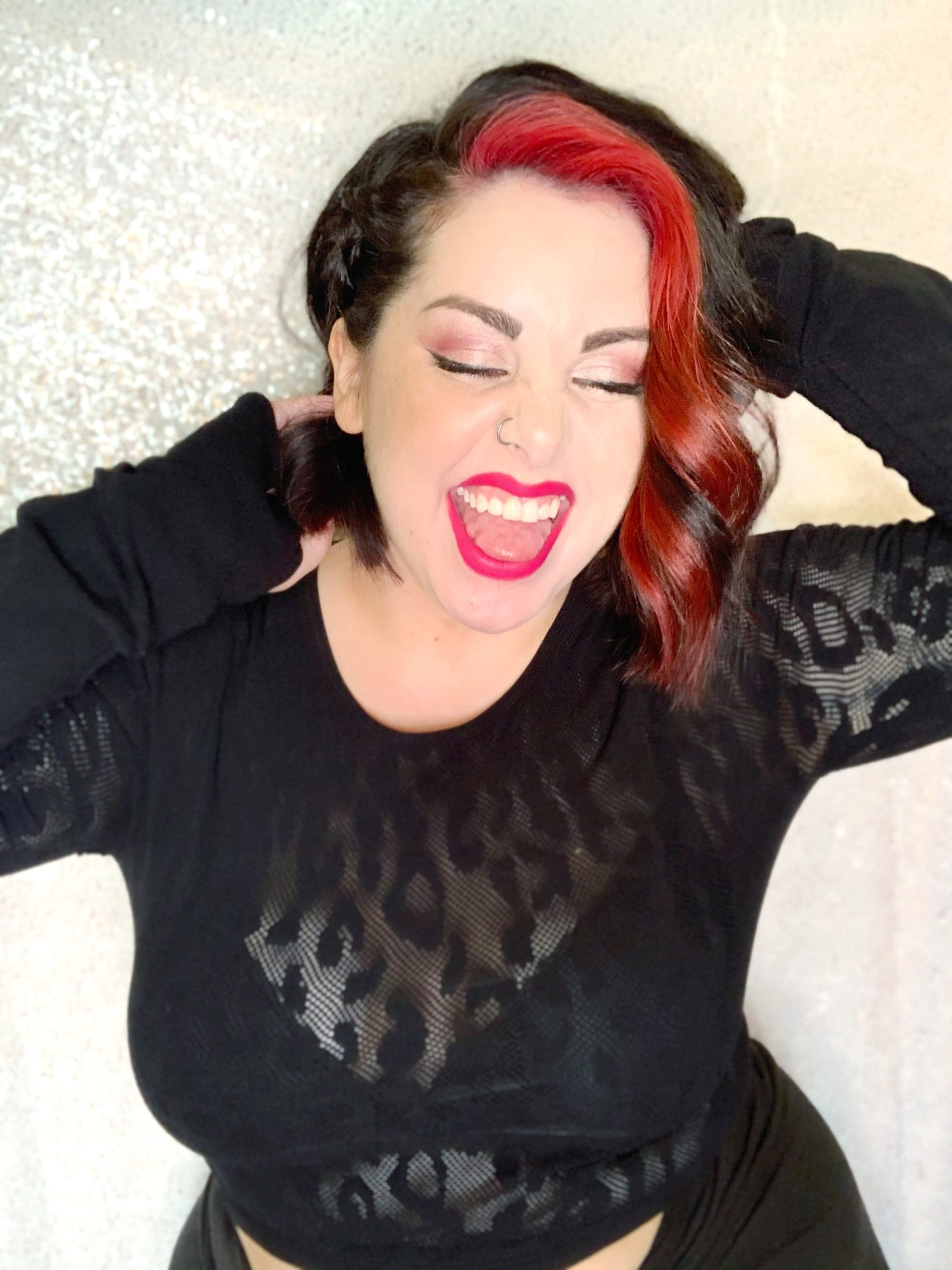 I know exactly what it feels like to hide behind the expectations of others just so you don't rock the boat...
and I also know what it feels like to embody the truth of who you are (even when it can be a lil'disruptive ♦ )
This is why I  don't shy away from controversial topics that surround us being the most vibrant expression of who we are.
This includes topics around judgment/diet culture/fatphobia/fear marketing and constructs set up in society to keep us submissive as well as social media/personal branding and what it truly means to be fully expressed in OUR OWN WAY - free of apology.
If you're ready to give less f*cks,
Own your extra,
Free your mind/body/brand from restrictions,
and spend your time actually experiencing the life you're here to live,
with a no-bs, judgment-free, experimental space with a strong foundation unconditional of unconditional love and PLAY - as you slay the F out of who you are...
You're in the right place! 
This is what you can expect from private coaching with Dani
Private coaching with Dani is a fun, non-judgmental space where we tackle:
♥ Unshakable self-confidence.
♥ Unleashing & claiming our inner voice.
♥ Mastering unapologetic energy without losing our incredible-loving-heart-centered badassery as a leader.
♥ Leading with authority & taking up space without apology.
♥ Owning the F out of visibility (on stage, in the dating world, in the business world and in your life).
Private coaching contracts do include access to all of Dani's courses for life which includes her most popular courses: Turn Up The Truth, #UNPROFESSIONAL, #SELFOBSESSED and more.
Private coaching contracts also include any private or in-person events Dani schedules for the duration of the coaching relationship as well as any VIP days or brand new offers (omg right!?).
How it works: 
♥ Each month you will have access to unlimited voice message support as well as 3 (45 minute) sessions.
♥ We talk daily (or when desired/necessary), work together to ensure you're fully supported, and give you a safe space to be fully mother-effin expressed.
Within the first few weeks clients normally:
♥ Feel on fire, re-structure their offers, put themselves out their more, find more freedom in their content, feel more free in their body, begin to explore with their style, speak up for themselves and implement loving boundaries with those around them.
Obviously everyone is different so the results will vary for each client and though this is the norm, we do not promise any results as we cannot predict the trajectory of each client's journey.  I believe so deeply in this work and have been blown away time and time again by its potency, I will hold space for whichever way this journey will unfold as it is unique to you.
FAQ:
How do we start working together?
You can fill out the application form here  --> Dani does a happy dance behind her laptop and you chat to see if you're a perfect fit. Once you've been accepted you will receive a payment link and once payment has been received you will receive a private calendar link to book your first session (OMGGG YAYY!) as well as contracts & client intake forms.
Is this just for coaches?
My specialty is in leadership and personal branding but I have had individuals move through this program who are career-driven individuals/actors/artists/financial advisors/nutritionists/and even those who run product-based businesses who benefit with incredible results.
Is this a business coaching program?
Not at all! Though personal branding and positioning is one of my fave things to chat on and though the work we do can massively benefit sales of a personal brand, social media presence, content and success - this is not a specified business coaching program.
How much is the private coaching program?
♥ 6 month investment: $20K
♥ One year investment: $40K
♥ Payment plan breakdown & price: $3500/month for either 6 or 12 months.
Got another Q? Send it to Dani@Danieledriusso.com and we will answer it asap for you xo 
---
N E X T ♦ S T E P S 
♥ FILL OUT THE APPLICATION HERE ♥
We will get back to you ASAP to see if you're a perfect fit!
In the meantime feel free to check out some of the incredible humans I have had the pleasure of working with over the past few years (I love them all so much, as I am sure you will too!).
---


"(Before working with Dani), I wasn't my true, genuine self. I was hidden in this little rock that I had to break through. I was scared, I had been wounded, and I had been hurt a lot. I missed goals over and over again. But I always knew I was unstoppable. Because my dreams were big enough that I wasn't going to let little things stop me in my tracks. Working with Dani is a whole new level, a whole new commitment, a whole new deep dive. I knew I wanted that deeper root, accountability, support, love, and guidance. (Stepping into) your purpose, your calling, is way more important than your current situation and what has happened to you. I knew I needed that love aspect to heal what has been broken inside of me and I couldn't heal on my own to move forward. It wasn't until I stepped into my calling that I was like, "Holy cow, this is actually my reality before my eyes." And I get to help all these other women make that their reality too. I know I'm here to do big things, but not just for me, it's for all of them. It's for the legacy I'm going to leave."


"I started working with Dani when I was already a multiple six-figure business owner. I felt like there was a huge disconnect (with my content) and I didn't know why. (Dani) helped me realize I was carrying along an ancestral line of vocal silence. She picked up on that and helped me clear the energy, which helped me be much more truthful and profitable. I was able to get a lot more raw and vulnerable. She is a brilliant strategic mind, she really knows what she's talking about from a business standpoint, but her true passion lies in voice and in working with her you can really see that. So if you're considering working with Dani, run, don't walk. You really won't regret it, even just spending an hour or two with her will be deeply and profoundly transformational."
"Dani is a legend - a freaking soul-sister biz bestie! I was at her retreat in April. Literally, I've seen Dani bring out and pull up things in people that are really blocking different areas of their life and business. They've been holding down something for so long and as you're doing some of this voice work, you really start to move the energy. If you're finding there's any sort of blockage that you're having in terms of expression and truly harnessing that space within, check her out! I think that the work Dani is doing is so incredible. Being at the retreat and using different voice techniques has helped me show up more myself online and also in my life entirely. Standing within that space, unapologetic, and knowing that I'm in my truth and it's coming from a place of love - (Dani's) work is freaking amazing!"